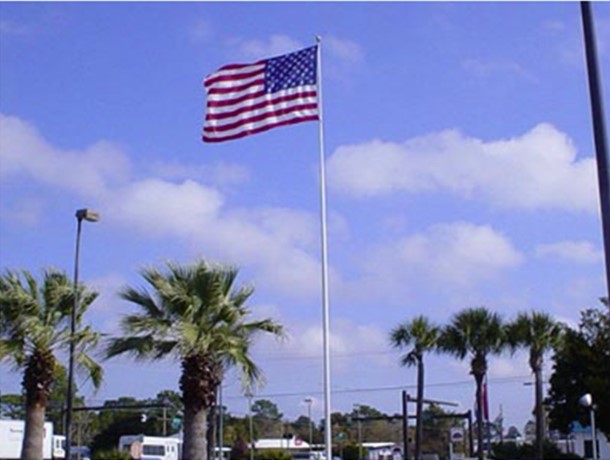 We Support Our Troops
The giant American flag that flies over the dealership was originally dedicated in 1970 to the POWs of the Vietnam War. At the end of that conflict, it was rededicated to all Americans who have served their country in uniform.
We are profoundly grateful to those who have served in defense of our freedom. We fly the flag both as a tribute to and a reminder of the many sacrifices that the men and women of our armed forces have made to protect our country and to secure liberty around the world.
On behalf of all the employees at Bill Cramer Chevrolet Buick GMC, we welcome home our servicemen and women with open arms. Your bravery and courage make us all proud to be Americans.
Thank You.
Transcript from the ceremony at the initial Flag Raising:
Thank you all for joining us today as we raise our 50×30 foot American Flag. We reserve it for specials occasions, such as this. The flag that customarily flies here is 20×30. What you are about to see is 2 1/2 times as large, and I must admit, it takes my breath away.
My late father-in-law, Tommy Thomas, a veteran of World War II and always a Marine, first raised the flag in 1970 at Tommy Thomas Chevrolet, which was located on 15th street. He dedicated it to the POWs and MIAs of the Vietnam War. At the conclusion of that war and the return of the POWs, he broadened the recognition to include all those served in uniform.
When we moved here in 1985, we brought that flagstaff and planted it at this spot, the most prominent at the dealership. Thirty years later, on the occasion of the 50th Anniversary of the founding of our family's business, we re-dedicate this American flag to all the men and women, of every era, who have nobly served our country.
Without their countless sacrifices, we would not enjoy the free-enterprise system that enables a business like ours to span five decades and three generations.