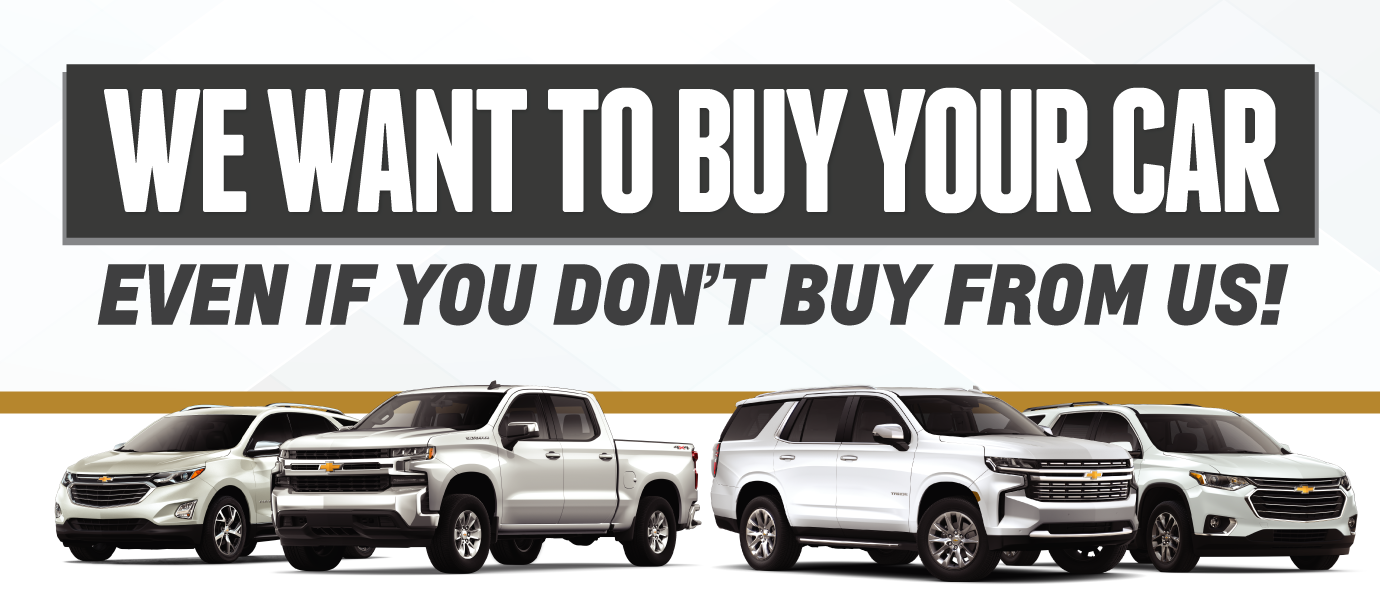 Not driving your vehicle lately or have a vehicle you are looking to get rid of?
We want to purchase it from you today!

Sell Us Your Car at Bill Cramer Chevrolet Buick GMC
Are you looking to sell your current ride? Taking photos, figuring a reasonable price, and posting on various websites is quite the hassle, so let us buy your car at Bill Cramer Chevrolet Buick GMC. Whether you have a Chevrolet, Buick, GMC, or a vehicle from a different manufacturer, we buy all models and makes. Also, rest assured, we thoroughly inspect each vehicle, considering each special bell and whistle to make sure you receive top dollar for your ride, so you can put it towards a new and improved ride for yourself. Selling your car has never been so easy, so sit back and relax while Bill Cramer Chevrolet Buick GMC guides you through the simple process. Your vehicle is just what our pre-owned inventory is missing!
How to Sell Us Your Car
We make the process easy, so there are two ways to get the ball rolling. The first option is to hop online and fill out the quick vehicle information form. Here, we will ask questions about the model and make, mileage, condition, and more. Once you have time to bring your vehicle by Bill Cramer Chevrolet Buick GMC, we will be able to submit a firm cash offer. On the other hand, you can skip the online process and come straight to our dealership. Someone from our team will inspect your vehicle in a timely manner and give you an offer. If you are wondering what to bring, we ask that you show the title of your car, payment book, and service records, so go ahead and gather that information. If you have any questions, don't hesitate to contact our team at Bill Cramer Chevrolet in Panama City, FL!
We Want to Buy Your Car at Bill Cramer Chevrolet Buick GMC
Life is too busy to worry about selling your vehicle by owner, so head over to Bill Cramer Chevrolet Buick GMC in Panama City, Florida. Whether you choose to come to the dealership or fill out information online, our team will gladly walk you through the steps, as well as make sure you receive a great offer. On the other hand, if you are shopping for a new car, have a diverse inventory of new vehicles, and we offer competitive trade-in values. Now that you understand how simple the process really is, it's truly a no brainer to let Bill Cramer Chevrolet Buick GMC buy your car!