Drive Belt Replacement Service in Panama City, FL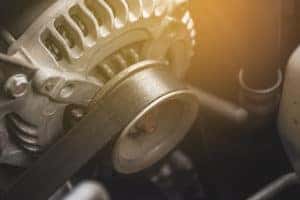 Your running list of automotive services probably includes getting regular oil changes, wheel alignments, tire rotations, and battery checks, but there are other less frequent services that many drivers in Panama City forget about. One such service is having your car's drive belt replaced. 
To start, you may be asking yourself, 'what is a drive belt?' The drive belt is one of the mechanical accessories attached to the engine that powers (or "drives") all of the other accessories like the alternator, water pump, power steering pump, and AC compressor. Some cars have one drive belt while others have two; sometimes single belts are referred to as serpentine belts. 
If your drive belt is in need of replacing, it's important that you schedule this service with us at Bill Cramer Chevrolet Buick GMC immediately – if your drive belt breaks you won't be able to drive your car at all. 
When Do You Need a Drive Belt Replacement?
Unlike other services like oil changes or tire rotations that have clear mile markers, knowing when to replace your drive belt can be a little trickier. Most manufacturers don't specify a mileage for replacing the drive belt because it depends on so many factors like the local weather here in Panama City, spilled oil, and road dirt. 
The good news is that there will be several warning signs that your belt is on its last leg, including cracks, missing ribbing, or notches that appear to be a little too close together. You can perform a quick inspection of your drive belt on your own, and our team will also check it each time you bring your car in for other routine services to ensure that any wear and tear is caught early.  
If you notice that your drive belt is beginning to wear out, it's imperative that you schedule a drive belt replacement appointment at Bill Cramer Chevrolet Buick GMC. You want to ensure that you don't end up with a snapped belt and a car that won't run. You can schedule your drive belt replacement appointment online using our online service scheduler. 
Schedule a Drive Belt Replacement Service in Panama City, FL
Driving with a worn-out drive belt puts you in a dangerous, precarious situation, so it's always best to schedule drive belt service as soon as you notice that your belt is wearing out. Book your drive belt replacement service online at Bill Cramer Chevrolet Buick GMC today for a safer drive tomorrow. We look forward to servicing your vehicle soon!