Car Battery Service in Panama City, FL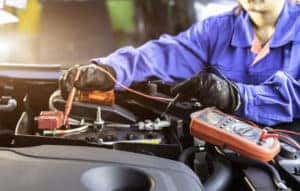 Although everything under the hood is typically out of sight and out of mind, it's important to make sure all your car's essential parts are in good condition. It's easy to forget about your car battery until it starts to show signs of trouble, and when that happens, it can cause stressful delays as you wait for a jumpstart. You can avoid that situation by having your battery professionally inspected and replaced by the trained technicians at Bill Cramer Chevrolet Buick GMC.  
Don't let a bad battery put you in an inconvenient situation. Being proactive about your car care can help you prevent unnecessary frustration, and our service center in Panama City offers expert battery inspections and replacements for affordable prices. Trust your vehicle to our team whenever you think your battery needs professional care. 
When Do You Need Battery Service? 
Modern car batteries typically function well for about three years, but there are many variables that can impact the actual lifespan of your battery. Factors like your driving behaviors, the local climate, and even the brand name can all play a role in determining how long your battery will perform, so it's necessary to look out for signs that it's wearing out. 
There's more to your battery's condition that you can see on your dashboard gauge, so remember to take a look under the hood for a visual analysis. Look out for corrosion building up on the connections as well any cracks on the surface. Whenever you start your vehicle, take note if it seems sluggish upon ignition. If you're concerned about anything you notice, bring your vehicle to the service center at Bill Cramer Chevrolet Buick GMC. 
Schedule Your Service at Bill Cramer Chevrolet Buick GMC
If you think that your car is due for a new battery, fresh oil, or any other timely service, you can rely on the honed expertise of our staff to get the job done right. We hope you'll schedule your service with Bill Cramer Chevrolet Buick GMC whenever you need expert maintenance in Panama City. Remember to take advantage of our service offers to save on your visit!